Description
The first and only vacuum to utilize AQUA-FORCE TECHNOLOGY™
What you will get
The H2O Vac® Turbo™ is build to last a lifetime yet it's lightweight enough to maneuver anywhere. With adjustable suction levels now you can clean in and around even the most delicate items.
• No clogging and dusty dirty bags to bog suction down
• In addition to air purifying, it cleans messes on all surfaces and delicate materials
• Environmentally friendly and easy to use + empty
• Use the included set of air nozzles to inflate air mattresses, balls and pool toys
• Powered by 1200 Watt and air flow suction of 60 CFM
CLEANS MESSES INSTANTLY!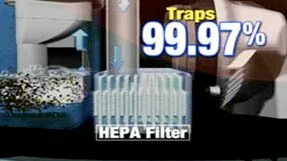 • Unlike all other vacuums the H2O Vac® Turbo™ sucks all the dirt and dust into its sealed aqua chamber literally trapping it under water.
• Combined with its certified Hepa filter, traps 99.97% of all the unwanted dirt, dust and harmful allergens that other vacuums can spew back into the air.
What's Included

1 x H20 Vac Turbo unit w Wet HEPA filter, 5′ Flexible hose, 5 m cord
1 x Strainer for water tank
1 x Telescopic (extension) Handle
1 x Standard Head (Double Usage Brush)
1 x Squeegee
1 x Bristle Brush (Small Sofa Brush)
1 x Small Suction Nozzle
1 x Adjustable (Combined) Crevice Brush
1 x Multi-sized (Inflatable) Nozzles – set of 3
1 x Attachment Holder
1 x English Manual